Personal attention to all your book needs. Orders taken for new and used books. Selling books since 1978.
Welcome to Books Of Aurora, Inc. Please search or browse our inventory of hard to find, out of print, used, and rare books. If you can't find what you like, please send an e-mail inquiry,

books@booksofaurora.com

, or call 330-995-3228. There are thousands of books, not yet cataloged. All new,'in-print' books are available through this site. Just leave your information in the off-line search form and we'll e-mail price and delivery information.
On the Road
Patient Experience Summit
Empathy + Innovation
May 22 - 24, 2017
Cleveland Convention Center
Sponsored by the Cleveland Clinic
Please click here for more information
Ideas for Tomorrow
Intercontinental Hotel, Clevland Ohio
June 7, 5:00 pm
Sheryl Sandberg
"Lean In"
"Option B: Facing Adversity, Building Resilience, and Finding Joy"
Aurora Memorial Library
Aurora, OH
June 27, 2017, 1:30

Tricia Springstubb

Guide to the National Parks of America; New and Enlarged Edition
Allen, Edward Frank
95.00 USD
Add to shopping cart



The Devout Child An Ideal Prayerbook With Special Prayers Arranged For Little Children compiled From Approved sources
35.00 USD
Add to shopping cart



Gems of the Necklace: Images of the Cleveland Metropolitan Parks
Marmolya, Gray A.
45.00 USD
Add to shopping cart



Child Lore a Selection of Folk Legends and Rhymes
Edited
80.00 USD
Add to shopping cart


Little Red Riding Hood
Rogers, Julia Anne
95.00 USD
Add to shopping cart



Margaret Mee in Search of Flowers of the Amazon Forests: Diaries of an English Artist Reveal the Beauty of the Vanishing Rainforest
Morrison, Tony; Editor
45.00 USD
Add to shopping cart


Art of Arranging Flowers; a Complete Guide to Japanese Ikebana
Sato, Shozo
65.00 USD
Add to shopping cart



Child's Garden of Verses
Stevenson, Robert Lewis
30.00 USD
Add to shopping cart



Punch, or the London Charivari: Vol. CLXXXIV, January - June 1933 plus Punch Summer Number 1933
Editors
40.00 USD
Add to shopping cart



The Jolly Jump-Ups: A Child's Garden of Verses
Stevenson, Robert Louis
35.00 USD
Add to shopping cart



A Child's Nursery Rhymes in Living Pictures.
Radcliffe-Howarth (Illustrator)
35.00 USD
Add to shopping cart



Piccino and Other Child Stories
Brunett, Frances Hodgson
40.00 USD
Add to shopping cart



A Child's Garden of Verses
Stevenson, Robert Louis; Smith Jessie Willcox (illustrator)
55.00 USD
Add to shopping cart



Child's Garden of Verses
Stevenson, Robert Louis; Burd, Clara
45.00 USD
Add to shopping cart



Through the Open Door: To the Vastness of Your True Being
Tolle, Eckhart
19.95 USD



Sound Healing (CD)
Howell, Kelly
14.95 USD



The Force of Kindness: Change Your Life with Love & Compassion [With CD (Audio)]
Salzberg, Sharon
14.95 USD



Diabetes Burnout: What to Do When You Can't Take It Anymore
Polonsky, William H (Author)
18.95 USD



It's about Patient Care: Transforming Healthcare Information Technology the Cleveland Clinic Way
Harris, C Martin (Author), Lazuta, Gene (Author)
32.00 USD



Maximum Success with LinkedIn: Dominate Your Market, Build a Global Brand, and Create the Career of Your Dreams (2ND ed.)
Sherman, Dan
21.00 USD



Medical Billing & Coding Demystified (Revised) ( Demystified ) (2ND ed.)
Burgos, Marilyn (Author), Johnson, Donya (Author), Keogh, Jim (Author)
30.00 USD



The Communication Clinic: 99 Proven Cures for the Most Common Business Mistakes
Pachter, Barbara (Author), Cowie, Denise (Author)
20.00 USD



The Will to Live and Other Mysteries
Remen, Rachel Naomi
24.95 USD



Linked: How Everything Is Connected to Everything Else and What It Means for Business, Science, and Everyday Life
Barabasi, Albert-Laszlo (Author)
16.00 USD



Innovative Hospital Design
Broto, Carles
74.00 USD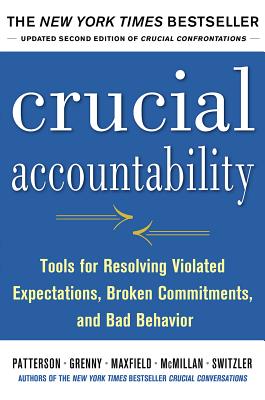 Crucial Accountability: Tools for Resolving Violated Expectations, Broken Commitments, and Bad Behavior (Updated) (2ND ed.)
Patterson, Kerry (Author), Grenny, Joseph (Author), Maxfield, David (Author), McMillan, Ron (Author), Switzler, Al (Author)
20.00 USD